Jerusalem Artichoke a Brilliant Pet Foot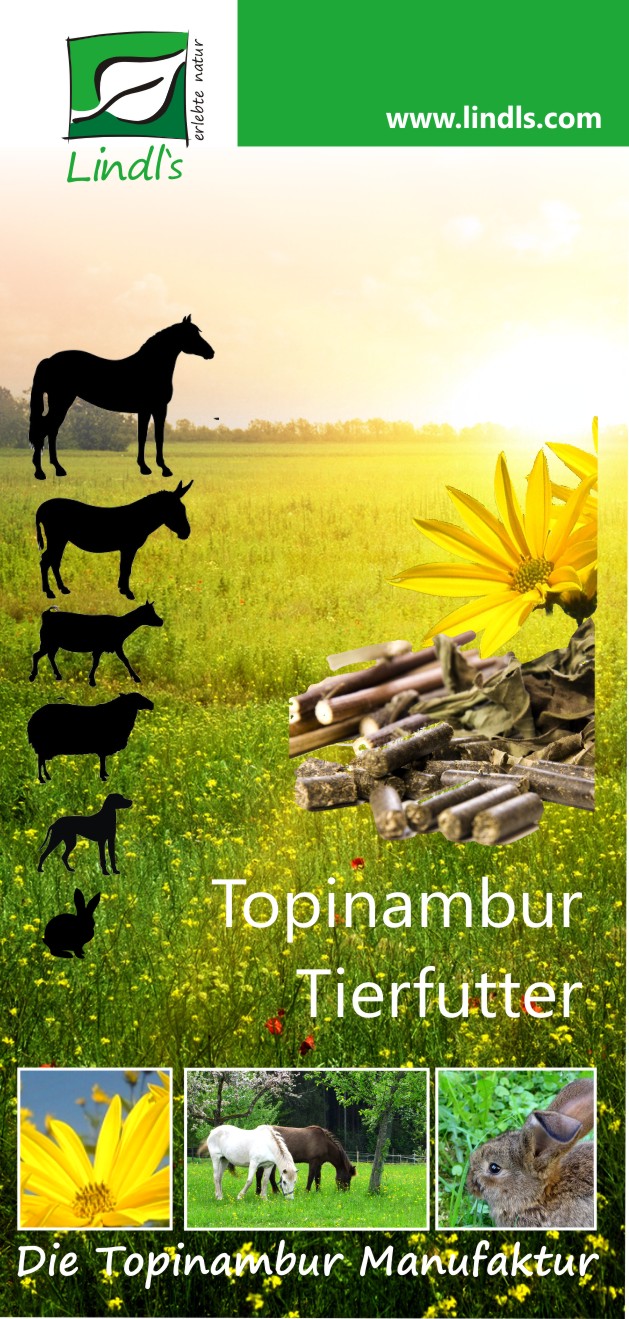 The high-quality Jerusalem artichoke and also the Jerusalem artichoke tubers are excellently usable in the entire animal area from guinea pigs, rabbits, poultry to sheep, goats, pigs, horses as feed. Jerusalem artichoke offers the valuable herb over the summer and in winter the tubers are available. Topinamburheu moored to trees in different places in winter, thanks to its high protein content is a delicacy for horses, donkeys, sheep and goats.
In general, Jerusalem artichoke is not to be used as a complete feed but as a supplementary feed.
We offer topinambur pellets from the herb harvested in autumn. The pellets are very well suited to alleviate and prevent metabolic problems in the horse. Thanks to the appetite-suppressing effect, a good slimming effect can also be observed.
The tubers can be completely fed. Thanks to the high inulin content, it is extremely beneficial for the metabolism of the animals. To improve the shelf life, our tubers are shipped unwashed.
Animals love Jerusalem artichoke
Particularly popular are the tubers and the herb in horses. 
In small animals it is a valuable food for rodents such as rabbits, rabbits and chinchillas. 
The house and farmyard animals include donkeys, goats, sheep and pigs and the beneficiaries. Jerusalem artichoke is also used in dogs.
Horses and donkeys

Sheep, goats, pigs

Chicken

Rabbits, rabbits

Chinchillas, guinea pigs
With sufficient nutrient ratios and favorable weather conditions and 2-3 cuts, you can harvest 7-8 dc fresh herb with 7-8 kg crude protein and 35-40 kg total nutrients of 100 m2. 

The herbs and tubers are preferably picked up by the above-mentioned animals, whereby care should be taken to ensure that the tubers are fed only after the first frosts. Only then have you reached its full digestibility.
In comparative feeding trials, especially in rabbits, it has been found that Jerusalem artichoke has been favored over clover mixtures and has demonstrated superiority in wool yields in angora rabbits and in the growth of young animals. Amazing also the fact that with intensive feeding of cabbage and tubers to pigs, a firm, less watered and darker meat is achieved.
The Waidmann appreciates Jerusalem artichoke, because the plant offers both eyeballing and cover all year round. In feed-poor January and February the tubers are available to many species of animals as a source of food.
Feeding recommendation Jerusalem artichoke pellets
Our organic Jerusalem artichoke pellets are made from fresh Jerusalem artichoke without further additives . The pellets are intended as a high-fiber diet supplement and have a very positive effect on digestion. Due to the high content of inulin a very good metabolisation is achieved and the intestinal health of the animals is significantly improved. Our cabbage harvested in the fall is very well suited for overcoming protein overfeeding.
Jerusalem artichoke is rich in fiber, vitamins and minerals. Jerusalem artichokes are particularly suitable for the following animals
Horses as treat and to improve the intestinal health

Goats and sheep as valuable supplementary feed

Rabbit as Lekerli and to improve health

Chinchillas as Lekerli and to improve health

Chickens, as green forage (when the pellets were soaked with water)
horses
Recommended daily ration about 200g per 100kg body weight

Do not use Jerusalem artichoke as a complete food

Feed the pellets regularly, in small doses

Depending on the weight, power, etc., we consider sufficient 500g to 1 kg as a daily ration

fresh Jerusalem artichoke tubers (Oct. - Apr.) well washed and not chopped
Please watch how your horse reacts to Jerusalem artichoke. The inulin contained in the herb is broken down in the colon and the local bacteria are often undersupplied. For this reason, the horse could react to bloating in case of overdose.
Sheep, goats, pigs
Recommended daily ration about 100g to 50 kg body weight
Jerusalem artichoke is successfully used in pig fattening as a concentrate substitute. Read a study by the University of Kassel
Rabbits, rabbits, chinchillas
recommended daily ration 10-50g
dogs
For dogs with indigestion therapy, mix regularly with the fresh food.