About us
The topinambur manufactory, family business and organic agriculture
We have been able to realize our dream of living in the countryside and live since 2002 in the beautiful Allgäu on an old Allgäu farm. The topinambur manufactory was founded in 2008. We work exclusively on the basis of organic farming.
Our goal is to introduce you to the fascinating Jerusalem artichoke plant and to offer a diverse, healthy and valuable range of Jerusalem artichoke products. We inform you about topics such as diet, diabetes or wild game and garden, because the uses of Jerusalem artichoke are incredibly versatile. This is mainly due to the ingredient Inulin, which makes Jerusalem artichoke so unique!
Above all the health aspect is with our products in the foreground.
We run our small 4 ha agriculture in the Allgäu at 750m altitude and it is important to us to make sustainable, resource-conserving and with joy our living space.
New ways in marketing
W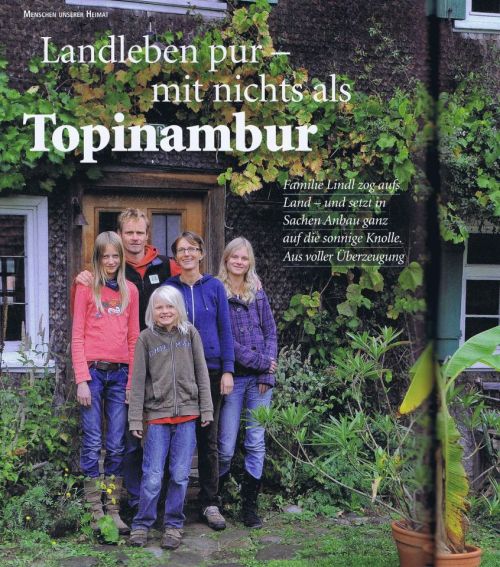 We market exclusively via the Internet. This is the only chance for our small business to survive even with the relatively unknown Jerusalem artichoke. We are proud to have been competing against Amazon and Co. for over 12 years as a small "online mom and pop shop".
Since we operate our agriculture on 750m in the beautiful Allgäu we often have snow while in the lowlands already the first flowers are blooming. Due to this stimulating climate, we have a great quality! With us there is still real manual labor, a dung heap and a species-rich agriculture.
Practicing sustainability practically
We consciously try other ways and work together, for example, with workshops for people with disabilities to produce our crispbread or crackers. We do not want to grow all the time but offer our customers the best products and our country's most careful treatment, for a future worth living in ...
See for yourself!
Georg Lindl, The Topinambur Manufaktur